Dr. Vikas Gawri /
Hair transplant doctors in Ludhiana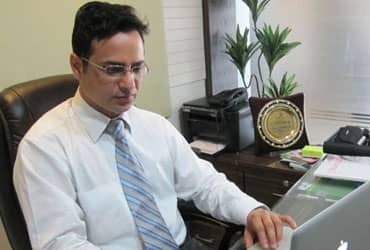 Dr. Vikas Gawri
M.B.B.S, MS, M.Ch
---
Contact Detail

+91-9872633771

care@nhtindia.com
Treatment Available
FUE Hair Transplant
FUT Hair Transplant
Cosmetic Surgery
Plastic Surgery
Qualification of Doctor
MBBS
MS
M.Ch. (Cosmetic Surgery)
Fill the form for free online consultation from

Dr. Vikas Gawri
About Doctor Vikas Gawri
Dr. Vikas Gawri is board certified plastic and cosmetic surgeon with special national and international trainings in the field of latest 3rd generation FUE Hair Transplant technique. He is the leading hair transplant surgeon in north India to offer totally Natural &Undetectable hair transplant with his special innovation of dense packing. He specialize in Follicular Unit Extraction (FUE), the most advanced hair transplant extraction technique which is minimally invasive and allows for quicker recovery time compared to other existing techniques. Since there is no visible evidence of surgery, FUE has increased tremendously in popularity. Dr. Vikas Gawri is a well known figure in hair transplant and cosmetic surgeries in north India with exhaustive experience of over 600 FUE sessions operated by him. He has well trained and professional staff / team to assist him in laborious hair transplant sessions . He listens to the personal preferences of his clients and design your hairline shape after a friendly discussion. Dr. Vikas Gawri is famous for his satisfied clientale from the Modeling & Glamour Industry.
©2009 www.naturalhairtransplant.co.in All Rights Reserved.
Disclaimer : While we have made every possible effort to ensure that the information on the Site is accurate at the time of inclusion. We don't assure any warranties, undertakings or representations on the completeness, accuracy or responsibility, availability, performance or practicality of this website or any of its contents. We neither accept nor assume any responsibility to you in relation to the hair loss treatment via this site. The complete responsibility of the end result depends upon the surgeon. We do not guarantee specific hair transplant surgical results.